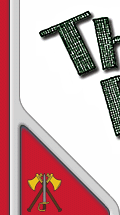 THE ROYAL
PIONEER CORPS
ASSOCIATION
c/o 23 Pioneer Rgt Royal Logistic Corps
St David's Barracks Graven Hill
Bicester
Oxfdshire
OX26 6HF
telephone
01869 360694

fax
01869 360695

email
royalpioneercorps
@gmail.com
facebook
facebook.com/
groups/chunkies
registered
charity number
1024036




SHOW YOUR
SUPPORT !
23 Pioneer Rgt
Wristbands
only
£1 each




" It was the removal of beach obstacles, the building of
ammo, food and supply dumps and construction that the
majority of the 6,000 Pioneers, who landed on D-Day, were
engaged. Much of the work was carried out under artillery

and small-arms fire with the ever present risk of touching
off a land-mine… "

Major E H Rhodes-Wood

Latest News

last updated -






Association members should be finding the latest issue of The Pioneer dropping through their letterboxes... with this Newsletter you will, as usual, receive tickets for the Derby Draw (unless you have already indicated that you are unable to sell them). It would be appreciated if you would give this your fullest support. Our two Draws per year help to keep the Association going.

Also included is the booking form for this years Reunion Weekend. I look forward to seeing you all there!

Please keep your letters coming in and I hope you enjoy reading the many great stories inside this issue !

• Pioneer Reunion Weekend 2013
• Past Events
• Future Events
• General News
• 23 Pioneer News
• 168 Pioneer News
• Corps of Drums Reformed
• Frank Shepleys War Service
• Steve Blenman's African Adventure
• Photo Gallery
• Kraxel - the full story still classified by MI6 today
• Pioneer Diaries Part I
• Press Cuttings from 1941
• Blast From the Past
• RPC Association Shop
• Letters to the Editor
• Pioneer Services Section
• Book Reviews
• Last Post - May they rest in peace
• Pioneer Services Section
• Lost Trails
• And Finally...

and much more !

April 13th 2013

Joining the Royal Pioneer Corps Association


It is now nearly twenty years since our Corps converged with the other Forming Corps' to form the Royal Logistic Corps, it is pleasing therefore to report that the Association is standing the test of time and still going strong. So far this year we have recruited over eighty new members, some who served during World War 2, many from the National Service days of the Fifties and a great number from the Sixties and Seventies who for one reason or another failed to join when they were serving.

Over 21,000 have joined the RPCA since its formation. When you make contact with ex Corps members or ex RLC Pioneers ask if they receive the newsletters - tell them it is FREE! If they do not please send me their address. If you would like to join the RPCA, drop me an email and I will send you details on how to join. Our reunions are open to all Pioneers and we look forward to seeing you all.

November 3rd 2012

Welcome to the Royal Pioneer Corps Association website...

Patrons
HRH The Duke of Gloucester KG GCVO
Vice Patrons
General Sir John Stibbon KCB OBE
Major General G W Field CB OBE
President
Bridadier H J Hickman CBE
Chairman of Council
Colonel A Barnes TD JP
Controller
Mr N Brown Esq



Although the Royal Pioneer Corps disbanded in 1993 when it was amalgamated with 4 other Corps to form the Royal Logistic Corps, the Royal Pioneer Association still runs and does valuable work with the financial help of the Army Benevolent Fund. It's main work is the relief of "need, hardship and distress" of ex-Pioneers, their wives, widows and dependants.

The Corps has quietly got on with business in hand, sometimes with recognition, often with none at all. A price was paid and you will find the graves of Pioneers in most War Cemetaries overseas - they paid heavily. Our overseas Pioneers must never be forgotten; they too gave their lives and served loyally. The Association will provide the focal point for the Royal Pioneer Corps affairs both socially and supportively. It will need your involvement and encouragement.

The Association publishes two newsletters a year. These newsletters are published on this website. Under the umbrella of the Association there are also a number of organisations - details of their activities are also to be included. In the main these are:

39/93 Club Dinners
Warrant Officers and Senior NCO's Pioneer Reunion Club
Northampton Branch of the Royal Pioneer Corps Association
215 Company Reunion Lunch



» editor & researcher - Norman Brown
» our resident historian & researcher - Lieutenant Colonel John Starling
» webmaster & photography - Paul Brown
» hosted by - SupaNames

and many thanks to all the ex-chunkies, serving
chunkies, relatives and everyone who has submitted articles
and stories to the association, for the benefit of everyone




Newsletters

April 2013

October 2012

April 2012

October 2011

April 2011

October 2010




The Forums are a great way to keep in touch.

Please read the
forums section for more info
on how to use
them.

Facts


The strength of the Corps in May 1945
was probably one
of the largest in the Army and included 12,000 officers,
16,000 UK
personnel and
400,000 Pioneers
from other parts of
the Commonwealth.
It was responsible
for a civilian labour
force of 1,074,000
and a prisoner of
war force of
173,000.


26 Pioneer
Companies went ashore on D-Day in Normandy on
6th June 1944.
By D-Day plus 79 there were 231 Companies.
Over 68,000 men.


Army Commanders
in every theatre of
war paid tribute to
the work of the
Corps without
which they freely admitted that the
war could not
have been won.



Over 2,800 British personnel of the
Corps laid down
their lives overseas,
. suffered more
. than 26,000
. casualties.