Confidentiality
We take privacy very seriously indeed. No information whatsoever is passed onto any other companies, advertisers or mailing lists etc. Any addresses e.g. email addresses are kept completely private, unless the individual has posted his/her email address in the forums.

Cookies
The only cookies we use on our pages are for simple statistical use on the main page to see how many visitors
we have had and for forum use. Apart from these two simple uses we do not abuse the use of cookies.

External Links
This site contains links to other sites. We have checked all the website links that are on this site and at the time
they were of a professional standard. We are however not responsible for the privacy practices or the content
of such Web sites. We reserve the right to make changes and corrections at any time to this site without notice.

Forums
Any posts in the Pioneer Forums are posted by individuals acting in their own right and do not necessarily reflect the views of the Royal Pioneer Corps Association. By using the forum, individual posters agree not to post any defamatory or libellous posts and to accept full responsibility for the items they post. The only items censored in the various Pioneer forums are spamming and swearing and the forum software will remove or edit any content posted on the forums that meet this criteria. Please also note that all IP addresses are recorded when items are posted on the forums.
If you participate in any forum on the site, you must not:

- Defame, abuse, harass or threaten others
- Make any bigoted, hateful, or racially offensive statements
- Advocate illegal activity or discuss illegal activities with the intent to commit them
- Post or distribute any material that infringes and/or violates any right of a third party or any law
- Post or distribute any vulgar, obscene, discourteous, or indecent language or images
- Post or distribute any software or materials that contain a virus or other harmful component
Site members and visitors shall remain solely responsible for the content of their messages. Information obtained in a forum may not be accurate or reliable. Never assume that people are who they say they are, know what they say they know, or are affiliated with whom they say they are affiliated within any forum. The Royal Pioneer Corps Association shall not be liable for any statement, misstatement, inaccuracy or omission of any type for any content submitted by a site member or visitor on any forum.
By submitting or uploading any materials to the forums, you represent and warrant that you are the owner of such materials and by that action grant The Royal Pioneer Corps Association a perpetual, royalty-free, irrevocable, nonexclusive right and license to use and reproduce any such material for display on the site or a derivative created from the site.

Virus Protection
We take the utmost care to make sure that all our files are free of virus's and trojans etc. All our files are scanned with multiple virus checkers with the latest definitions and we take no responsibility if your machine is damaged from a file on our network. If in the very rare occurrence that you detect a virus on Royal Pioneer Corps please report it to us immediately. If you send us a file, scan the file before sending. Sending viruses is illegal and against the law, all actions will be taken to the user who sent the file.

Contacting the Web Site
If you have any questions about this privacy statement, the practices of this site, or your dealings with this
website, please contact us. Details are in the contacts section.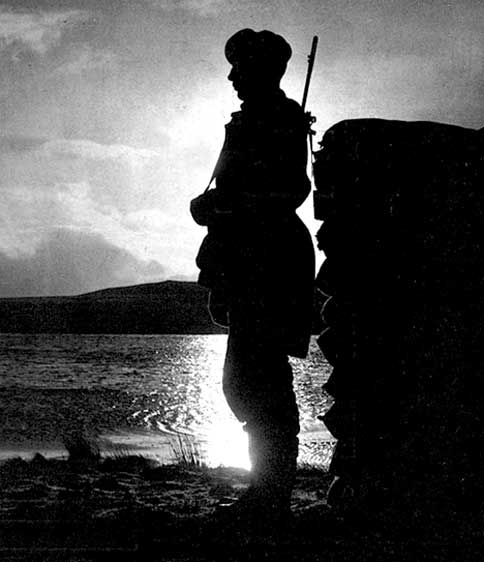 • A Pioneer Soldier in Northern Ireland on routine duty